The humble wardrobe, that piece of furniture which does one huge task in keeping our clothes, accessories, etc. all in one place, and usually in an organised environment.
However, there are simpler ways of making it even more organised, so let's do ourselves a favour and check out 7 of them, some of which you may be already making good use of. Take it away!  
1 – Disposing of Clutter
If there's any piece of clothing which has been sitting around in your wardrobe for over a year or more, and you haven't worn it or them, simply get rid of it and free up some room!
Go on, be ruthless, because there's really no point in hanging on to clothing which you're not going to be wearing again, or for the sake of nostalgia.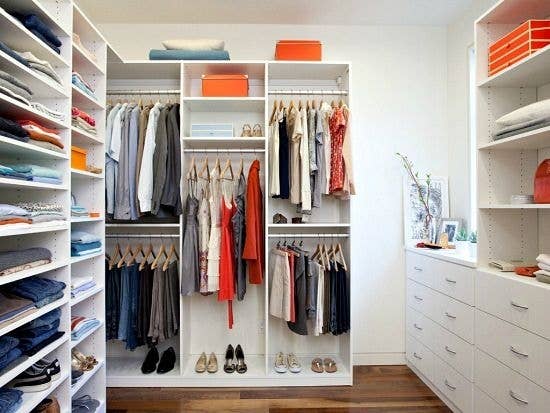 Sell at a car boot sale, give any pieces away or to a charity shop.
2 – Colours
Try to keep clothing (especially any on hangers) arranged by colour coding is an easy method of finding what you want to wear. Going straight to the piece you wish for is easy and there's no rummaging around trying to find any clothing hiding between other pieces.
3 – Easy to Find Location
Store your most-used items at eye level, and less-used items lower, and least-used items up high. Wardrobe solutions are indeed simple!
4 – Light
Put lights in your wardrobe to see exactly what's in there. This also adds an ambient touch and feel to your wardrobe and bedroom, especially when using coloured lights.
5 – Sliding
How about replacing clumsy traditional wardrobe doors that swing out, with sliding ones? Get the optional mirrors on the outside also and the whole feel of the room will be transformed.
6 – Fashion
You are keeping something because you love it and are hoping for it to come back into fashion! Well, in the real world, the chances are that by the time it does become trendy again, it might not fit you, or your tastes will have changed. Read number 1 again!
7 – Get a New One
Should your current wardrobe be not large enough, and it is simply from another era of your life, or perhaps you are now in a bigger home, why not just get a new and bigger one?
There are many updated designs out there these days, from built in wardrobes, to walk in ones, so a change in space and design will add a modern feeling to and a positive vibe to your home.
Simple Solutions
Now, that wasn't too hard was it? You don't really need too much imagination to transform that wardrobe into a cool place to hang out! And may your wardrobe be a place where you are now happier to visit!